By Ding Congrong (China Daily)
Updated: 2010-04-08 08:01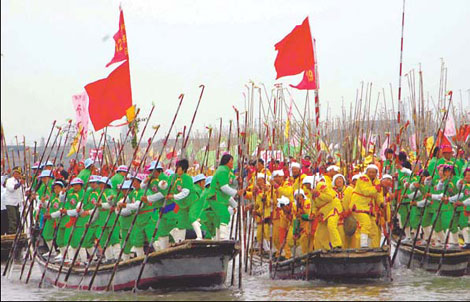 Qintong Boat Gathering Festival, one of the top ten folk festivals in China, is held on Tomb Sweeping Day (Qingming) every year.
Started on April 6 in Taizhou in Jiangsu province, the international tourism fair will last for one month untill May 6. Officials hope that it will be a must-see destination for visitors to the Shanghai World Expo.
Taizhou city government wants to take advantage of the forthcoming tourism boom that will be a result of the Shanghai Expo.
The venue is a two-hour drive from Shanghai. Taizhou is a tourist destination in the Yangtze River delta attractive for both its folk customs and its eco-tourism industry.
The city has a 2,100-year-long history. Famous people who have lived there include Zheng Banqiao, Shi Nai'an and Mei Lanfang. There are various cultural relics and scenic spots around the town.
A national level city wetland park, forest parks and colorful islands have long attracted visitors to the region.
Water is the soul of the city. Buildings and rivers blend together, making Taizhou like a water garden rather than a city.
Fresh water fish are abundant here. The city's traditional fare includes fish, shrimp and crab dishes.
In 2009, nearly 10 million tourists visited the city, who are from within China and abroad, realizing a profit of around 10 billion yuan ($1.46 billion). These figures are expected to increase after this year's tourism fair.
The month-long fair, which was first held last year, will kick off with celebrations for the Qintong Boat Festival, which was first celebrated in the Southern Song Dynasty (1127-1279), and features boat racing and folk dances on board boats. There will also be performances of traditional work songs as well as local operas.
Trade and investment talks will also be held. Over 600 investors from around the world have been invited to attend the fair. Some 90 projects worth 13.2 billion yuan will be unveiled during the fair.
Events relating to the Shanghai World Expo will also take place during the fair.
Taizhou has a stable and safe social environment. People enjoy living there and want to welcome visitors and show their hospitality.
This year's fair is expected to give visitors some great memories and also to provide multinational companies with a better idea of China's investment environment.
(China Daily 04/08/2010 page15)
http://www.chinadaily.com.cn/cndy/2010-04/08/content_9700090.htm