By Ding Congrong and Jiang wei (China Daily)
Updated: 2010-06-07 07:56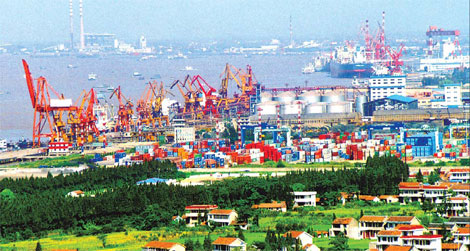 Bustling Nantong: Near the mouth of the Yangtze River, the city in Jiangsu province is well situated as a shipping hub. Local authorities, determined to develop the city's advantages, have greatly expanded infrastructure. Provided to China Daily
Local authorities in Nantong hope to develop the city into a regional logistics center, international port city and advanced industrial base, generating an estimated 250 billion yuan in gross domestic product in coastal areas, according to a senior government official.
The coastal city in east China's Jiangsu province bases its economic ambitions on two strategic opportunities - the Jiangsu coastal area development program and the economic integration of the Yangtze River Delta, said Mayor Ding Dawei.
"The development program, which was approved by the State Council one year ago, offers an ideal growth opportunity for the province's coastal areas," Ding said.
"We will capitalize on the opportunity to promote our city and attract more overseas investment," Ding said, adding that now his government is hoping to advance port construction, industrial growth and infrastructure facilities.
With some 166 km long river shorelines and 203 km long coastlines, the city now has 48 berths on the river, which can accommodate ships each with not less than 50,000 dead weight tonnages.
"Industry is crucial to developing coastal areas," Ding said.

Six pillar sectors of machinery and equipment manufacturing, electronic information, petrochemicals, power and energy, textiles and garments, and food have contributed nearly 90 percent of the city's total industrial output.
The high-tech sector generated 180 billion yuan in industrial output in 2009, increasing 21 percent over the previous year.
Coastal industries like shipbuilding and repairing as well as related supportive facilities, maritime engineering, port machines and equipment, fine chemicals, new energy, and oil and grain are now present in the area.
Currently there are 488 shipbuilders in the city. They completed 5.67 million ton ships in 2009, a surge of 95.3 percent over the previous year.
A group of high-end maritime projects including a sixth-generation deepwater ocean oil drilling and storage platform, the first of the world, and a 400,000 ton ore carrier were started last year.
At the same time, 17 coastal projects with a total investment of 75.2 billion yuan were also signed with the city.
"Scientific and efficient development is key to the healthy and sustainable development of the coastal areas," Mayor Ding said.
The city now has 13 provincial-level and above, economic development zones, and five coastal industrial clusters.
With a total planned area of more than 210 sq km, the five clusters have drawn 369 projects with total investment surpassing 46 billion yuan.
In addition, 21 cross-river inter-regional projects are under construction, including a technological industrial park, undertaken in cooperation with Singapore-Suzhou Industrial Park in Suzhou, another city in the province.
The initial 9.5 sq km infrastructure facilities of the park in Nantong have begun construction.
Ding also cited widespread transportation network, high-quality human resources and a business-friendly environment as appealing factors to investors.
The city ranked among the top 10 Chinese cities as overseas investment destinations in 2007.
By the end of 2009, more than 9,000 foreign-invested companies had begun operations in the city, with a total investment of $17.2 billion. Nearly 40 Fortune 500 firms have invested in 68 companies in the city.
Since 2006, Nantong has had an annual average growth rate of 15 percent. Last year saw the city realized 287.3 billion yuan in gross domestic product.
"We vow to create a business-friendly environment for investors, offer improved and efficient services, leave business operations with the market and ensure investors' capital security, so as to achieve win-win results," Ding said.

(China Daily 06/07/2010 page13)
http://www.chinadaily.com.cn/cndy/2010-06/07/content_9940318.htm