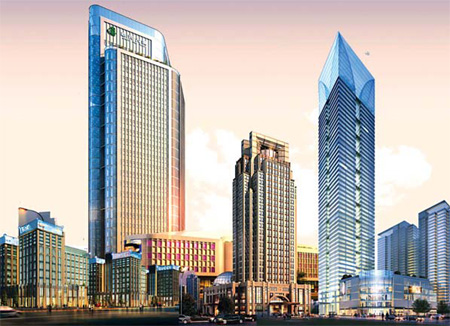 Nengda commercial project, a part of the development zone, is built to provide a centralized location for the service industry. Photos Provided to China Daily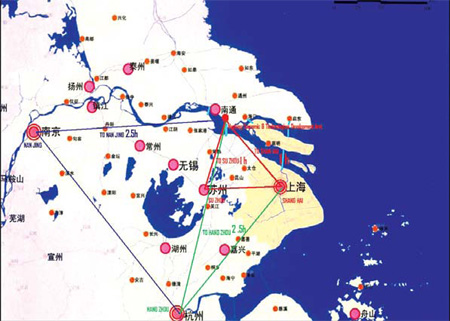 The Nantong Economic and Technological Development Zone is located northwest of Shanghai.

The Nantong Economic and Technological Development Zone, in Nantong, Jiangsu province, is one of China's first 14 coastal development zones, and one of 10 development zones with the largest investment potential for multinational.
The zone sits along the central part of China's east coast, on the northern bank of the Yangtze River.
And it has got a lot more attention from domestic and foreign companies in recent years. It has more than 50 of the world's top 500 companies.
But, the Nantong government says, this is not enough and it is determined to make the situation even better.
One of its goals is to build a modern first-class town in the zone, where work and living conditions are among the best in the world.
The zone is also expected to have a balanced ecology, with plenty of green, and a harmonious society.
Chen Dexin, the zone's Party chief, told China Daily that their goal is to increase its economic and innovation strengths, international competitiveness, and development, dramatically, under the 12th Five-Year Plan (2011-2015).
"To do this, we need to focus on improving industrial structure, finding innovative people, and promoting urbanization and environmental protection," Chen explained.
The developers plan to enlarge the role of emerging industries and modern service industries, while upgrading traditional industries.
"We'll focus on areas where we have the most advantages, paying closer attention to products with growth potential and projects that are most competitive," he added.
"By the end of 12th Five-Year Plan, high-tech and emerging industry projects are expected to account for more than 60 percent of total industrial output."
The zone plans to build optical-electronics, biomedical, innovation, and service industry parks "with distinguished features so they become the best in the province and the whole country".
The government says it is committed to service industry development in, say, logistics, scientific consultation, information, and finances.
"Nengda was picked as a provincial modern service pilot zone, so it is important for integrating service industries. It has bases for creative design, e-commerce, medical R&D, and talent training," Chen noted.
The government is also pointing to its own unique culture for developing tourism.
As far as its traditional industries are concerned - things like textiles and clothing and fine chemicals - the government wants to promote brand names and high-end development.
It the area of talent, the government is looking for people with an excellent overseas education, as well as technicians or people in the sciences with achievements and patents.
It hopes to train over 300 talented people to work in scientific innovation and research, and wants to set up a technological innovation system. Over the next three years, annual spending on this system is expected to be no less than 200 million yuan.
To encourage inventors, the government will set up a special fund to support university-business cooperation, along with product research and brand creation.
"We will do some scientific planning on population, consumption, industrial structure, and traffic in relation to modern urban development," said Chen.
After five years, the Nantong Economic and Technological Development Zone will be a modern, independent town, but one that is still connected to the city of Nantong, yet full of competitive spirit and vitality, according to Chen.
He said he welcomes international companies to invest in the zone.
"We have favorable environmental and service policies and the zone can help investors be even more successful."
To support this belief, Kennichi Isobe, president of Shin-etsu silicone (Nantong) Co Ltd, a major global enterprise, said, "Many companies are settling here because of the location, the one-stop services, and the government's strong support. We're confident about our investment here."
Chen Lixin, the general manager of Cargill Grain & Oilseeds (Nantong) Co Ltd, said that the services, investment environment, and efficient work system make the Nantong Economic and Technological Development Zone a favorite place for investment.
Shao Chong and Wang Chun contributed to this story.
(China Daily 03/15/2011 page8)
By Chai Hua and Ding Congrong (China Daily)

Previous Page 1 2 3 Next Page
Previous Page 1 2 3 Next Page
中国日报:http://www.chinadaily.com.cn/regional/2011-03/15/content_12172066.htm