The Nantong Economic and Technological Development Zone was one of the first State-level development zones in China, approved by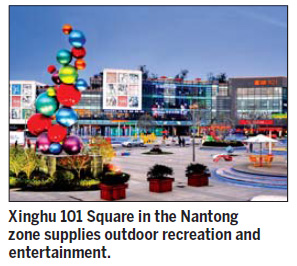 the State Council in December 1984. It now covers a more than 146-square-kilometer area.
Because of its geographical advantage and logistics strengths, the zone has become a transportation hub of East China and an important ocean-shipping terminal for the Yangtze River Delta, with immense potential for investment.
The Sutong Bridge, which was completed in June 2008, puts Nantong just a 90-minute drive from Shanghai.
It also has easy access to airports: a 20-min drive from the Nantong Airport, and 50 minutes from Shanghai's Hongqiao Airport.
The zone is home to one of China's Top 10 ports, with several 10,000-ton berths and navigation links to more than 100 countries and regions.
It also has an export processing zone to facilitate customs clearance and bonded handling.
The Nantong Economic and Technological Development Zone has attracted several hundred enterprises, with more than $10 billion in backing, from around 40 countries and regions.
Since 1984, the zone has maintained management practices that are in keeping with international standards, with the idea of cutting industrial pollution as much as possible.
It has won the State Environmental Protection Administration's National ISO14000 Demonstration Zone award, which indicates its outstanding characteristics in business and the environment. The ISO14000 is an international management standard for businesses and administrative regions.
So, the Nantong zone's good environment for public order and for investment, make everyone feel secure and operations convenient.
By Hao Nan and Ding Congrong (China Daily)
(China Daily 03/15/2011 page8)
中国日报:http://www.chinadaily.com.cn/regional/2011-03/15/content_12172125.htm