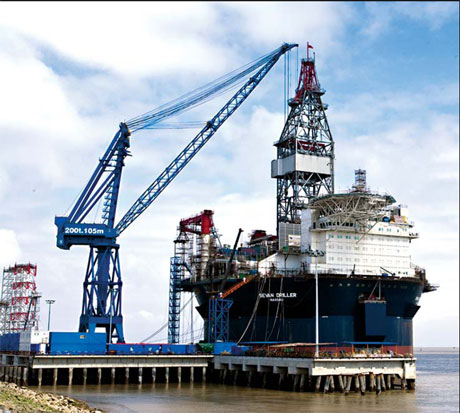 Chinese manufactured oil drilling platform at Nantong Port, where the booming economy has benefited locals.
The city of Nantong's booming economy has benefited its people substantially, thanks mainly to local government policies, the mayor has said.
The GDP for 2010 was 2.3 times that of 2004 and ranked 26th among Chinese cities. Five years ago, it was in 29th place.
And average annual incomes last year grew more than 10 percent, from 2009, according to Ding Dawei, the mayor.
Per capita annual income of urbanites reached 21,825 yuan ($3,322) in 2010, up 12.1 percent, while that of rural people reached 9,914 yuan, up 14 percent from 2009.
The government spent 16.85 billion yuan on improving the lives of its people, or 31.4 percent more than for 2009. This accounted for more than half of its entire expenditures. Spending in this area was more than 55 billion yuan, over the past five years.
Much of that was spent on major concerns like food, medicines, old-age pensions, and housing, the mayor said.
Another area of concern has been education and cultural development. More than 1 million square meters of school buildings were renovated and a new library, international bookstore, and media center are under construction.
The major projects that were completed under the 11th Five-Year-Plan (2006-2010) included bridges and ports. Also, a railway bridge that connects Nantong with the nearby commercial hub of Shanghai is set to open.
Urban development has picked up speed and accounted for 55 percent of Nantong's total area by the end of 2010.
"We'll continue to improve our services and work better for our people," said Ding.
Authorities have set up a mailbox and hotline to open direct communications with the people, and the mayor, and other officials have met with common folk to discuss their worries and hear their complaints.
This has helped to provide a friendlier, politer environment, and the city ranked second in Jiangsu province, for its friendly, safe environment in 2010.
It was also at the top of the provincial scale in social security, and is the nation's only social security pilot city in Jiangsu.
But, Nantong still has a lot to do over the next five years. The leaders wants to give the economy a boost by making it an economic center for the Yangtze River Delta's northern part.
The city government plans to increase spending to improve people's lives, this year, and they plan to increase the green coverage to 21 percent and lower the emissions of major polluters.
In addition, they want to stop housing prices from growing so rapidly and provide more housing for low-income people, Ding said.
In their longer-term thinking, they plan to raise average annual incomes of urbanites to 40,000 yuan, by the end of 2015, and those of rural folk to 19,000 yuan.
(China Daily 03/06/2011 page6)