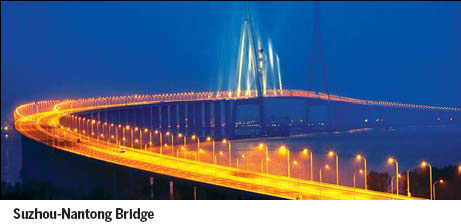 The city of Nantong hopes to strike a balance between its urban and rural development over the next five years, according to the mayor.
In agricultural modernization, it already saw considerable growth in the past five years, adding 26,600 hectares of high-yield farmland and 7,533 hectares of aquatic farms, Ding Dawei, the mayor said.
Spending on related projects increased 37 percent in 2010.
Two provincial modern-agriculture parks and 46 ecological projects were built as well.
The government also improved rural infrastructure, reworking 1,350 kilometers of roads, adding 15 urban-rural bus lines, improving 845 bridges and building four garbage incineration power plants.
Major projects involved improved drinking water quality and river dredging.
The mayor said that the financial condition of urbanites also improved in 2010, with income rising 12 percent to more than 21,800 yuan ($3,315). Per capita income in rural areas rose to 9914 yuan, an increase of 14 percent from 2009.
"Nantong expects to see significant improvements in more coordinated urban-rural development under the 12th Five-Year Plan (2011-2015)," Ding said.
"Our urbanization and modernization will also accelerate and, in five years, urbanization will reach 64 percent."
One other major goal is to improve the lives of 8 million local people, Ding said.
They expect to double average income of urbanites to 40,000 yuan and that of rural people to 19,000 yuan.
The city government is considering some major projects in coordinated urban-rural development, he added. One of these involves reclaiming 12,000 hectares of prime farmland and setting up eight agricultural parks and bases.
The government wants to commercialize its farm produce oriented toward exports, and develop some proprietary brands.
Other rural infrastructure projects underway include adding 1,200 kilometers of roads and 650 bridges.
One rural environmental project has the goal of coming up with a better management system for rivers, streets, forestation, and household waste. The idea is to treat 100 percent of rural household waste.
(China Daily 03/06/2011 page6)