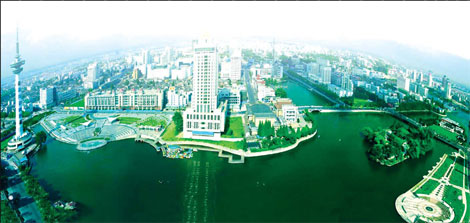 The coastal city of Nantong's advantageous location, dynamic private sector and strong high-tech industry, mean that it is emerging as a popular investment spot. Photos Provided to China Daily
Local leaders shooting for a GDP of more than 600 billion yuan, by 2015
Nantong, in Jiangsu province, has seen some impressive growth over the past year, especially in the private sectors, with GDP expected to grow 12 percent, this year, according to the mayor.
While that may sound really good, local authorities have their sights set on something higher.
The city's GDP for 2010 was 341.8 billion yuan ($52 billion), a 13 percent rise from the 2009 figure, Ding Dawei, the mayor, has reported.
Around 60 percent of that came from the private sector, a dynamic force, with 24 local companies among the nation's top 500.
The high-tech sector, which includes some companies in the private sector, brought in about 242.4 billion yuan, or about 71 percent of the GDP.
Another contributor was the city's 13 development zones, which also are home to some of the sectors mentioned above, accounting for 48 percent of the GDP.
But that is not enough for local authorities, who are aiming higher. Their goal is to have a GDP of more than 600 billion yuan by 2015.
Tourism is expected to contribute 41 percent of that, and per capita GDP is projected to exceed 80,000 yuan.
To this end, the city government will keep its eye on industrial restructuring and increase spending on infrastructure in 2011, Ding said.
The authorities plan to put 20 billion yuan into railroads, either building or upgrading them, as well as highways, bridges, ports, and an airport.
This is expected to help even well established local industries.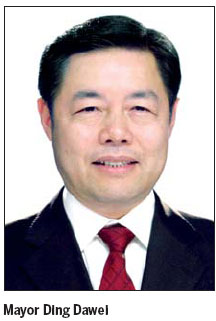 The city's key traditional industries are shipbuilding and related businesses, whose output was valued at 96.7 billion yuan in 2010, a 21.3 percent increase from 2009.
Meanwhile, production in the textile and garment sector was worth 169.4 billion yuan, a 16.7 percent increase.
More than 1,000 companies in emerging sectors like clean energy, new materials and ocean engineering also saw a sharp rise last year. The major companies had an output valued at 161.6 billion yuan.
Nantong is a leader in the ocean engineering business and a high-tech shipbuilding center.
Shipbuilding, along with textiles and energy are expected to have an output of 100 billion yuan this year.
Many other industries saw higher than 25 percent growth, such as IT and precision chemicals, whose products range from soaps to perfume.
The industrial value of the service sector rose 13.6 percent, to 124.7 billion. Out of that, tourism showed strong performance, with income of 23 billion yuan, an increase of 27.9 percent over 2009. Tourism outsourcing generated more than 810 million yuan in revenues, up 70 percent.
Talent program
To make sure that these industries will continue to grow, local government has a special plan to attract more experts and specialists in various fields.
It has put 220 million yuan into a program that already has pulled in 185 business and technology experts.
As it tries to improve the city's investment climate and market access, it is welcoming overseas investors to emerging sectors like modern services for the coastal area, the mayor said.
It has favorable policies to encourage multinationals to establish regional headquarters and research centers in Nantong and bring in technology and talent.
But, imported human resources and technology are not the only answer, so the city is working on its own homegrown brands and proprietary technology as a way to sharpen the competitive edge of local industries, Ding said.
Green moves
The city has an intensive development plan for more efficient energy use, and has a wind power capacity of 642 megawatts, with another 523 megawatts from photovoltaic batteries.
Wind power capacity is expected to grow to 900 megawatts, and photovoltaic battery output to more than 1,300 megawatts.
In addition to renewable energy, the authorities have turned their attention to pollution controls, shutting down or moving 50 small chemical factories, last year. It also built or expanded 32 water treatment plants, adding 202,000 tons to its daily water treatment capacity.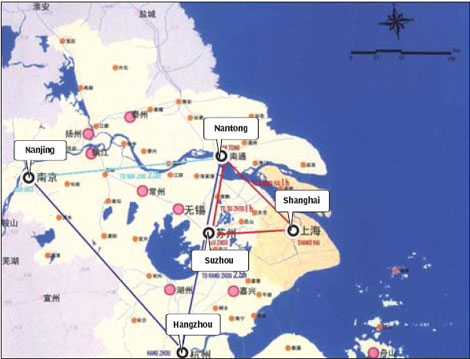 (China Daily 03/06/2011 page6)