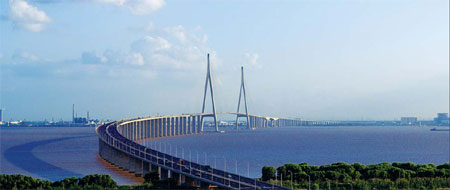 The construction of the Suzhou-Nantong Yangtze River Bridge, the world's longest cable-stayed bridge, has cut travel time between Nantong and Shanghai to within an hour, further integrating the city into the economically powerful Yangtze River Delta region. Photos provided to China Daily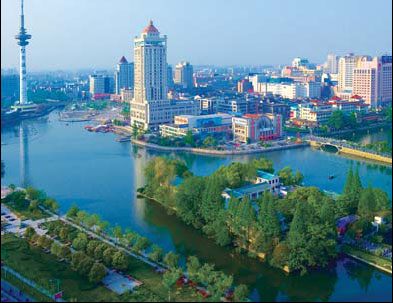 Known as Nantong's "green necklace", Haohe River has a history of more than 1,000 years.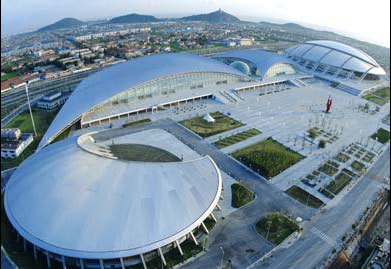 Covering an area of 400,000 square meters, the Nantong Sports Exhibition Center is a modern stadium that hosts the city's sport activities.
For any recent visitor to Nantong, it may not come as a surprise that the city - only a two-hour drive from downtown Shanghai - is an important transportation hub for Jiangsu, Shanghai and the Yangtze Delta area.
But for decades Nantong's economic growth was hamstrung by poor transportation networks, and the city was separated from Shanghai and the affluent southern part of Jiangsu by the Yangtze River.
Thanks to new infrastructure, Nantong, a northern city in Jiangsu province, is reclaiming its past glory by becoming integrated into the economic prosperity of the Yangtze River Delta.
Bumpy dirt roads and shabby houses have been replaced with a fresh cutting-edge look. Now, shopping malls, cross-sea bridges and skyscrapers give Nantong the appearance of a modern city.
Ding Dawei, Party chief of Nantong, said economic integration is the driving force behind such robust economic growth.
"Only 90 kilometers away from Shanghai, we have a favorable location at the mouth of the Yangtze River, providing us an edge to attract investment from domestic and foreign enterprises," Ding said. "Nantong will play a more and more important role in contributing to economic growth in the region."
Economic takeoff
In 2011, Nantong's GDP grew to 410 billion yuan ($65.1 billion), an increase of 12 percent compared to the previous year. Its per capita GDP reached 56,000 yuan.
Government tax and fee revenue tripled to 95.17 billion yuan, almost 40 percent of which went to the local general budget. This marked a 3.3 percent increase of the ratio of local general budget revenue to the regional GDP compared to 2007, according to official data.
Other economic data also show Nantong's positive economic outlook. Fixed investment totaled 238 billion yuan, a 21.7 percent increase from the previous year.
The output of the high-tech industry has surpassed 300 billion yuan, and its independently developed Cosco Shipyard won the National Prize for Progress in Science and Technology.
In 2008, the construction of a bridge across the Yangtze River connecting Suzhou and Nantong was completed. The world's longest cable-stayed bridge has made it possible to travel from Nantong to Shanghai within an hour.
Now that Shanghai has sped up industrial transformation, more and more international enterprises and projects have shifted to Nantong, which offers favorable conditions to investors, such as reduced taxes as well as lower administrative fees and operating costs.
The Nantong Economic and Technological Development Zone is considered one of the 10 development zones in China with the largest investment potential for multinational corporations.
More than 700 foreign-owned enterprises have been set up in the zone, about 60 percent of which are owned by Fortune 500 companies.
As Nantong continues to step up regional economic cooperation, the city will focus on increasing the amount and improving the structure of foreign capital to accelerate economic transformation, Ding said.
More foreign investment has been made than ever before in such sectors as high value-added manufacturing, high technology and modern services.
Last year, foreign investment deals totaled $4.54 billion, and more than half of the amount is now being utilized. The city has realized $2 billion to $3 billion worth of foreign investment for six consecutive years.
To further strengthen its ties with overall development in the Yangtze River Delta, Nantong has expanded its transportation networks by building a railway across the Yangtze River and the Chongming-Qidong Bridge, which connects Nantong with Shanghai. These new links help Nantong form the "Golden Triangle" of the Yangtze River Delta together with Shanghai and Suzhou.
But the city's geographical advantage is not limited to its proximity to the Yangtze River. In 1984, it was chosen as one of China's first batch of 14 coastal cities to be opened to the world. Since that time, Nantong has constantly worked to improve its shipping capacity.
The Port of Yangkou, a 200,000-ton deepwater port, has more than 60 berths, each capable of handling container ships over 10,000 tons. The city already has more than 30 berths along the Yangtze River capable of handling 50,000-ton ships.
The Port of Lusi in Qidong town and the ports of Dongzao and Rubo are also governed by Nantong. All of the city's ports had a total combined throughput of 170 million tons last year, according to official data.
"Near both the Yangtze River and the Yellow sea, we have very rich resources, with the largest number of berths along its coastline," Ding said. "We will further focus on these advantages to develop into an economic center of the northern wing of the Yangtze River Delta."
To take advantage of its resources, Nantong is also exploring alternative energy by constructing the largest wind farm in Asia, including the first two offshore wind farms in Jiangsu.
Nantong's efforts to stimulate its economy are coupled with plans to improve the local ecological environment and create a greener living space for its citizens.
It has spent 2 billion yuan to manage the ecological environment of the Haohe River through such actions as relocating polluting companies.
The city is also trying to install round-the-clock monitoring systems to check seawater and air quality along the coast.
It has received many national awards recognizing the city as civilized, clean and attractive for tourism and investment by foreign enterprises.
Not satisfied with the fact that Nantong's economic growth outpaced the provincial average, local authorities have ambitious goals for 2015.
The GDP growth rate is expected to rise to 13 percent by 2015, with annual per capita net income increasing to 80,000 yuan by 2015.
lvchang@chinadaily.com.cn
The sun rises over the green hills of Langshan Mountain, a renowned Buddhist resort in southern Nantong.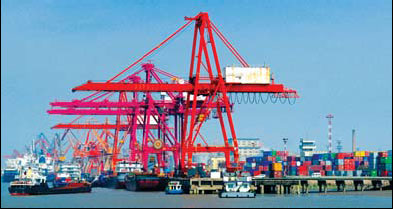 Near both the Yangtze River and the Yellow sea, the Port of Nantong is a key transport hub that boosts trade and economy.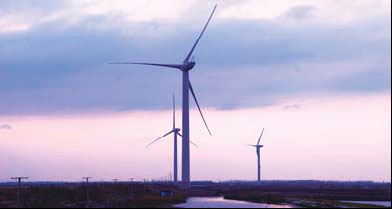 Wind turbines generate electricity on the beaches of Rudong county in the outskirts of Nantong. The county is now among the largest wind power producers in the country.
(China Daily 11/08/2012 page12)