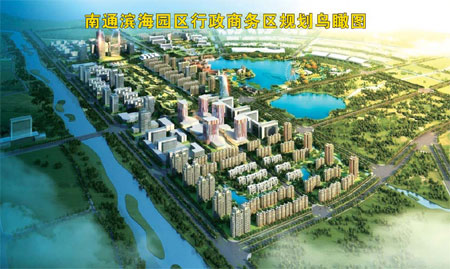 Artistic conceptualization of the business zone at Nantong Binhai Park
On the estuary of the Yangtze River in Jiangsu province, Nantong now is sparing no efforts to build up a modern industrial park.
The Nantong Binhai Park founded in January, will become a harbor front and modern industrial park at Tongzhou Bay.
On the north of the Yangtze River estuary between Yangkou and Lusi ports, Nantong is at the crossroads of Jiangsu's Yangtze River economic belt and the coastal economy belt.
The total area of the Nantong Binhai Park is expected to reach about 820 square kilometers, according to the park's long-term plan.
According to its development blueprint, Nantong Binhai Park will focus on developing as a large coastal industrial center in east China, an integrated logistics center and a heavy equipment manufacturing zone as well as an energy center for the province and a coastal State-level ecological tourist resort.
Development of the park has strategic significance on the north of the Yangtze River and also for improving Jiangsu's coastal development and promoting regional economic integration.
Resources and advantages
The park has rich resources and advantages for comprehensive development including excellent port resources, wide space for development, a good geographical location and favorable transport conditions.
Studies show the area can develop a deepwater coastline of 150 kilometers that can accommodate 500 deepwater berths. It can become a large comprehensive port cluster with a handling capacity of more than 1 billion tons of cargo annually.
Research found that the area's development has good prospects with low reclamation costs and conditions suitable for phased development.
Located along the coastal economic belt and the core area of China's most economically developed Yangtze River Delta area and near Shanghai, the park has unique geographical advantages.
With the opening of the Sutong and Chongqi bridges, construction of Hutong railway and the Chonghai Bridge, the travel time between Shanghai and the park has shortened to one hour.
It also has good conditions for combined transportation. In addition to 206 kilometers of coastline and 166 kilometers of river shoreline, Nantong port already has nine port areas and another three under construction.
Ambitious goal
Local authorities have set ambitious goals for the park. After five to 10 years of development, the area is expected to become the largest port cluster in China, a demonstration zone for high-tech industries, a Jiangsu coastal development zone and a national ecological tourist resort.
The construction of Tongzhou Bay Port, the country's largest port cluster area, is divided into four phases.
The first phase of the project is located between Yaowang Gangzha and Dong'an Xinzha in Tongzhou district. The designed throughput capacity of Tongzhou Bay Port exceeds 1 billion tons and will include loading and unloading, transit, storage, distribution, processing, trade, a bonded area and other functions.
With rich land resources, a deep-water port and transport advantages, it will also use independent innovation and establish an academic research platform.
Its pillar industries are planned to be marine engineering, new materials, intelligent equipment, energy conservation and environmental protection.
Local authorities are giving strong policy support while deepening reform and environmental protection to promote the area's innovation and development.
The master plan also calls for the park to be developed into the national ecological tourist resort that demonstrates the history and culture of Nantong.
Relying on the natural environment of the coastal city and its rich marine resources, beautiful seaside scenery, the area will focus on leisure and tourism.
(China Daily 11/09/2012 page12)