Updated: 2012-03-12 08:13
By Ding Congrong in Nantong (China Daily)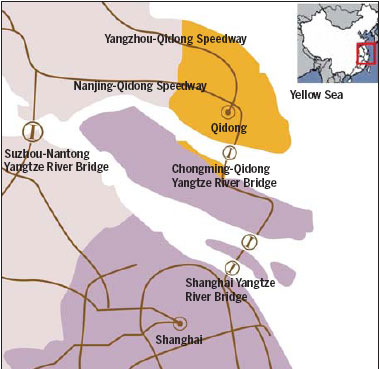 Map shows Qidong's location in relation to nearby Shanghai.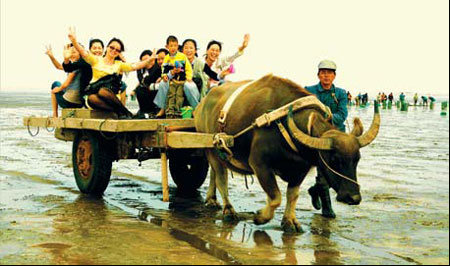 Tourists travel by oxcart at Qidong's scenic Gold Beach.
Qidong, a city of 1.12 million people, is where Yangtze River meets the sea. Situated on a peninsula, the city is blessed with strategic waterways and a golden coastline.
The city functions as a strategic port and a supplement to neighboring Shanghai, which sits some 80 kilometers away.
The city covers more than 1,200 square kilometers of land area, with 12 towns, 316 villages and 26 community offices under its jurisdiction.
Established as a county in the March 1928, Qidong has witnessed robust social and economic development since China's reform and opening-up.
The city's development efforts have landed it a place on the list of the nation's top 100 counties ranked by economic competitiveness, the nation's top 100 counties in terms of rural development and the nation's best 100 counties.
It has also been named a national ecological city and national sanitary city.
Qidong is known for its marine economy. It possesses 203 kilometers of coastline and 400 square kilometers of intertidal zone. Its Liusi Fishery is one of the six largest fisheries in China, contributing one-third of Jiangsu's total catch.
Besides its ocean economy, Qidong is also known for its strong automated toy industry. The city houses nearly 200 producers of automated toys. A 50,000-strong army of sales people promotes the toys to potential customers through a sales network that spans China.
The city's annual sales of automated toys make up 60 percent of the national total. Its automated toy market is officially recognized by China's Hardware Association as "China's Top Automated Toy Market".
Also, the port city is renowned for its contribution to architecture. With 100,000 Qidong people engaged in architecture projects at home and abroad, the city has claimed ten Lu Ban awards, the highest honor in Chinese architecture.
Qidong is strong in primary education as well. Students of Qidong Middle School took 13 gold medals and two silver medals in international academic competitions for secondary school students.
In addition, the city boasts an excellent tradition of woodcutting and other handicrafts. The Qindong Art Academy is reputed to be China's top woodcutting academy.

dingcongrong@chinadaily.com.cn
(China Daily 03/12/2012 page12)
中国日报:http://www.chinadaily.com.cn/cndy/2012-03/12/content_14809481.htm