By Shi Jing and Ding Congrong ( China Daily)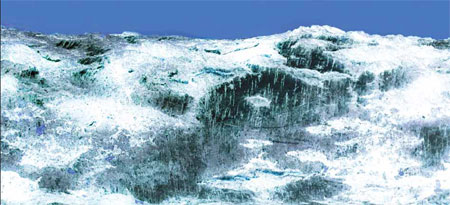 The Impression of the Alps, Geneva, Switzerland, 2013.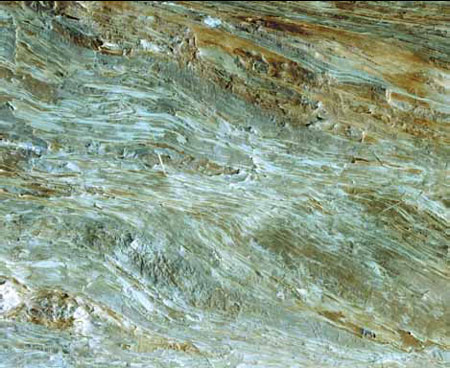 The Yellow River, Shenzhen, 2012.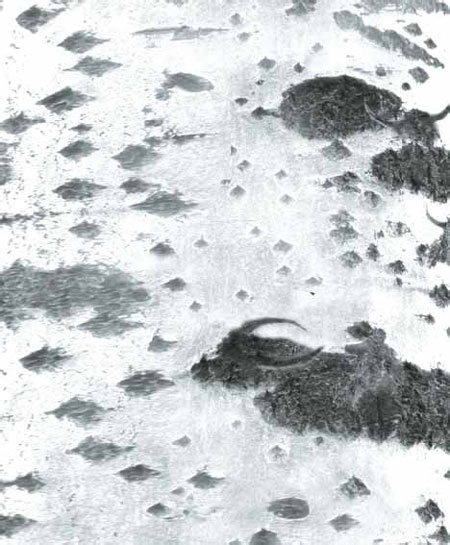 Herding Cattle, Beijing, 2013.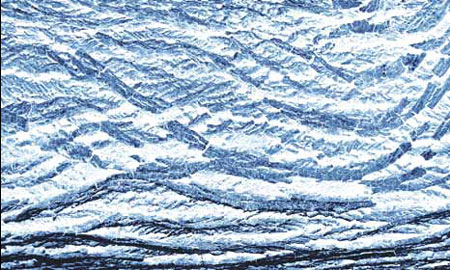 The Blizzard, Nanjing, 2012.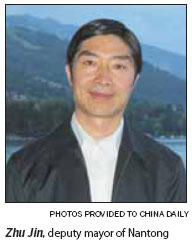 Deputy mayor has flair for finding beauty and art in everyday things (副市长的艺术天赋:日常事物中挖掘美)
Like many artists, Zhu Jin, deputy mayor of Nantong, Jiangsu province, uses his work to draw out the beauty hidden in ordinary objects.
For Zhu, even something seemingly unremarkable like tree bark can be extraordinary when combined with Chinese painting, woodcuts or photography.
"The most important thing for a photographer is observation. It is a reflection of his or her thoughts and imagination," he said.
Zhu's interest in bark was triggered during a business trip to Beijing in 2010, when he came across the bark of a white poplar that looked extremely special to him.
He took pictures of the bark and made the image into a woodcut.
By using special techniques, Zhu is able to transform tree bark into various images, such as depictions of the roaring Yellow River or scenes of peaceful, shining lakes.
Zhu said creating bark pieces requires a sharp sense of aesthetics and the ability to think "thoroughly".
"It should be based on the different textures of the bark. Even for the same tree, it displays a different look at a different time," he said.
Zhu often comes up with ways to improve his artwork during business trips. "I think being creative is not something that is done on purpose, but an instinct from heart," he said.
"I seldom go to a place specifically to take photographs. Most of my works just came to me naturally, including my bark series."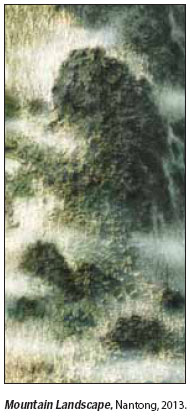 Wang Xiaohui, a well-known photographer in Shanghai, said she finds Zhu's bark series amazing.
"I have not seen any other works of the same kind. It is so unique," Wang said.
"I think he can further explore more bravely and come out with more works to show us the small details of great nature." Recently, Zhu's bark series has become popular in such cities as Beijing, Nanjing and Shenzhen.
Zhu picked up photography when he graduated from high school some 30 years ago. He said he has always been willing to learn and explore new territory.
He once worked as the director of the local legal bureau and as supervisor of economic reform in Nantong. He was also in charge of urban construction, and during his tenure, he is mainly responsible for environment protection.
His interest in arts has helped him a lot in his urban construction work.
"We cooperate with experts in environmental art and urban sculpture to solve some problems together," Zhu said.
"Such partnerships attract some Nantong artists to take part in building the city into a better place to live."
Currently in charge of culture and education in Nantong, Zhu displays some of his artwork at exhibitions to promote local activities and create public awareness.
He believes art has the power to help a person become a good leader who is able to understand and interpret the human heart.
"A leader's unique taste in art will help him or her develop good leadership. It also helps to add the person's personal charm," Zhu said. "A sense of aesthetics will not only help with artistic creation but also relax his daily life. As a civil servant, one should be a keen observer and a good thinker," he said.
Zhu's work is also in line with the central government's call to build "a beautiful China".
"We should discover the beauty in our daily lives. To this end, the government's call is not only aimed at conserving or creating a good natural environment but also implies that people's pursuit should be beautiful," he said.
"That is also true in art. It is quite sad to see that most people working in this industry are eager to be successful in a hurry."
Zhu said the essence of art is the "pursuit of beauty". "No matter how creative or different the artist claims his work is, if it is not beautiful, it is not successful," he said.
Contact the writers at shijing@chinadaily.com.cn and dingcongrong@chinadaily.com.cn
(China Daily 08/13/2013 page12)
中国日报:http://www.chinadaily.com.cn/cndy/2013-08/13/content_16889171.htm